Garden fences protect your flowers and plants from animals and allow your children to safely play in your yard. Fences can also beautify your outdoor space and increase the value of your property. If you want to make your home garden more attractive, you need to choose the fence style that will complement the over-all look of your garden and your home's façade. For inspiration, check out these garden fence designs.
Traditional Picket Fences
A picket fence is always a great choice if you want to keep things classic. Picket fences create a charming, homey vibe which can make your garden look more relaxing. If you're searching for a low-maintenance and more durable option, there are picket fences that are made from materials like aluminum. Metal fence panels can be painted in different colors, allowing you to match it with the color of your home's exterior.
Classic Lattice Patterns
Diamond-shaped lattice is another garden fence design that will never go out of trend. To make your garden look more romantic, you can wind roses and vines along the wall. Lattice garden fences also provide your garden privacy without making it look too boxed or confined.
Combination of Materials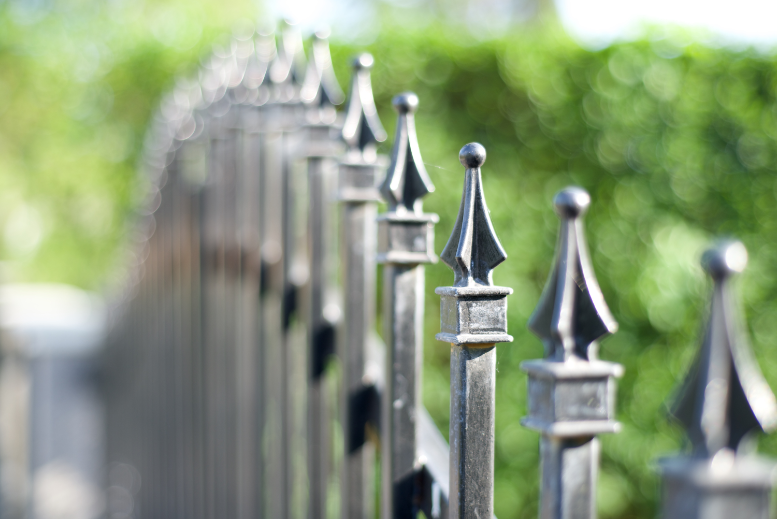 Mixing materials and styles adds visual appeal and makes your garden look more interesting. Combine complementary or associated materials, for example, you can mix black metal fences with wooden slats or cast-iron with chain link. You can also use the same materials but in different patterns. You can also opt for the same materials that were used in constructing your home to achieve a cohesive look.
Barely-There Fences
Barely-there or open fence styles come in many forms. They can be made from glass, wood or aluminum. This type of fence design allows air and sunshine to pass through, which is essential for growing your garden.
Living Fences
If you have a large garden, you can surround it with a metal fence and then line it with your flowering plants. Or if you prefer, you can go all-natural and build fences made from shrubbery, trees or hedges. Living fences will provide an eye-catching way to define your property's boundary and at the same time provide privacy screens.
Trellises
Garden trellises add structure for your climbing plants and let your outdoor space achieve the look of lush English gardens. You can paint your trellis fences green to match the color of your landscape or you can use pastel hues to add more color to your garden.
Zigzag Fences
Fences don't always have to be straight and narrow. Building your fence in a zigzag pattern provides your garden with a modern, unique look. You can plant bushes or place potted plants and garden statues on the corners made by the zigzag shape. Zigzag fences are suitable for sloping landscapes, providing an interesting visual aesthetic.
Your garden is an extension of your home. Choosing the right garden fence that will blend well with the rest of your outdoor living space will make your property a more beautiful haven.