Few people actually enjoy doing the laundry, and a non-functioning laundry room could make the task seem much worse. Laundry rooms aren't exactly spaces homeowners spend money and time on, but proper planning that highlights practicality and functionality could make laundry time more bearable.
But before calling in the pros such as remodeling contractors and residential plumbers here in Salt Lake City, Utah, below are some ideas to consider when planning a remodel of your laundry room.
The Three Primary Laundry Zones
A functional laundry zone has three main zones. While the size of these zones would vary depending on the overall size of your laundry room, having all laundry zones would make your laundry room organized and efficient. These zones are:
The Prep Zone – This zone must have ample spaces for overhead cupboards, laundry baskets and a deep sink with a swivel tap to make washing and rinsing easier.
The Washing and Drying Zone – This must include your washing machine and dryer as well as storage spaces for cleaning products and others. If you're planning on doing a galley laundry, allot ample space in front of your washer and dryer so you can easily reach your appliances.
The Folding Zone – This particular zone should include space for baskets or containers for clean clothing, hanging rods for air drying, and sufficient countertop space for folding.
Practical Additions to Your Laundry Room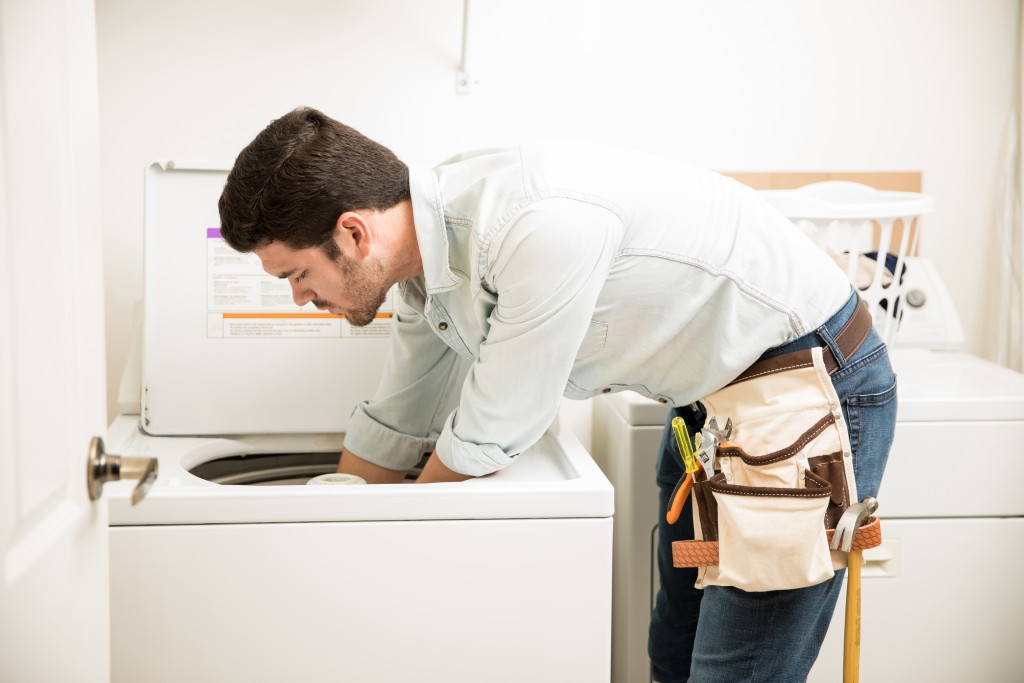 If you really want to make your laundry room as functional and efficient as possible, consider incorporating the following features in your laundry room:
Raised appliances are excellent ergonomic options that could give you more storage space. Some front-loading washers have drawers underneath, so if you lack space for laundry baskets, you could use these drawers for storing clothes.
Drying cupboards utilize low heat and high airflow for drying practically anything. Generally speaking, they come with pullout racks that you can easily adjust, and some even come with extendable hanging space. They are especially practical if for apartment living, cold climates, or when you need to air-dry heavy-duty items or large amounts of clothing.
If you want a more affordable alternative to drying cupboards you can consider installing drying racks instead. These can be installed above the countertop or sink and come with more space at the back so you can hang clothing on hangers.
Rethink the flooring. Because the flooring of your laundry room will be regularly subjected to water, you will need to reinforce your foundation with waterproofing membrane before installing the flooring. As for the flooring itself, opt for slip resistant and non-porous tiles and skip the hardwood floors altogether. You can also use tiles to bring in a stylish design feature to an otherwise plain laundry room.
The right lighting configuration will help make spotting and cleaning stains easier. Consider installing task lighting under cabinets and ambient lighting on the ceiling.
Keep these design ideas in mind when remodeling your laundry room to make sure that you create an updated, functional, and beautiful space that would make laundry time less of a chore.