Ever since the COVID-19 pandemic, weddings had never been the same. Weddings have gotten simpler and more intimate. But despite these big changes, nothing stops people from embracing new wedding trends such as designer wedding dresses, Instagram-worthy venues, and nature-driven hues, to name a few.
Among all these hot and happening wedding trends, brunch weddings are taking the wedding industry by storm. As the name goes, brunch weddings are all about incorporating breakfast dishes on your extraordinary day. This works best for couples who aren't big on the dancing and drinking part of usual wedding receptions.
Admit it; there's something special about the idea of brunch weddings. They make a sophisticated option for a cozy, relaxed get-together topped with the perfect morning ceremony and a breakfast-themed reception. If a brunch wedding is something you'd like on your special day, we're listing down the best brunch wedding ideas.
Be early as possible
Be careful when setting the timing of your brunch wedding since not all people like an early wake-up call. A typical brunch reception usually starts between 11 a.m. and 2 p.m., with the wedding ceremony happening beforehand. If you want to make it a breakfast gathering, 9 a.m. is the earliest start time.
Since the wedding ceremony is held in the morning, the wedding prep will be a challenging one. You have to wake up really early since getting dressed and applying hair and makeup will take much time. Coordinate with the stylist about how long it will take to style you and the bridesmaids to avoid getting late. You can also talk to the vendors ahead of time if they can prepare the venue and reception (except for the food and flowers) the night before.
Make the venue small and casual
Brunch weddings would only require a small and casual wedding venue. They're more relaxed, intimate, and have a fewer guest count than traditional wedding events.
Greenhouses, gardens, cafes, outdoor patio, scenic spots, or even your own backyard are all perfect settings for a brunch wedding. You can go for a rustic and picnic-themed party with a more laid-back nature. Think bridal showers and garden parties. It's casual yet fancy enough for a daytime wedding, making it ideal for spring.
Lighting and shadows are important elements of a brunch wedding venue. So make sure to check the venue to get that "morning light" effect on your photographs.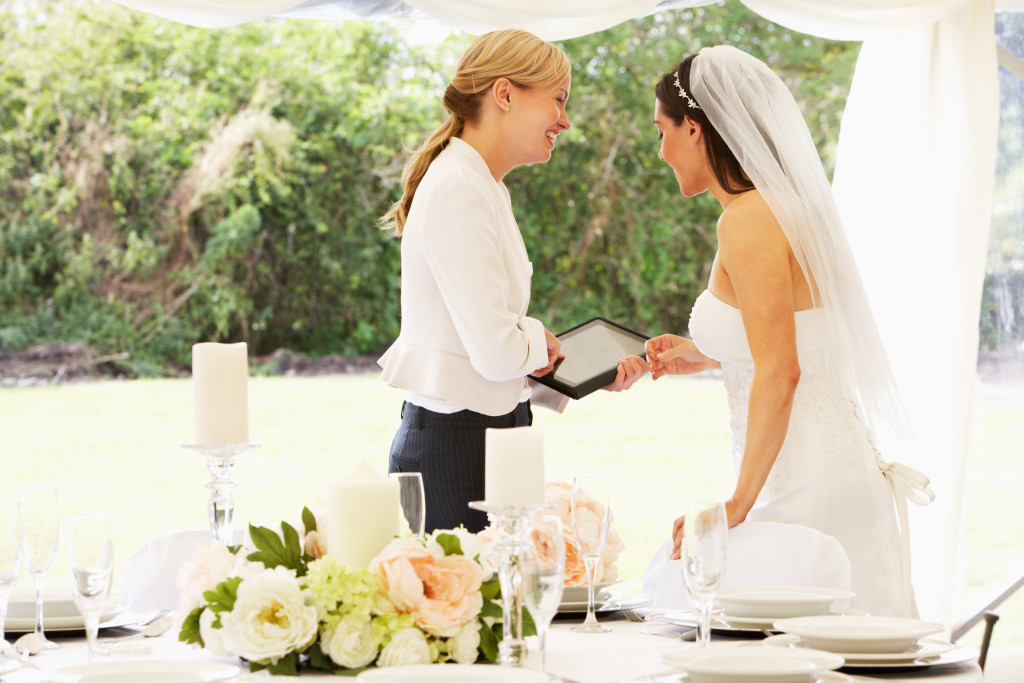 Dress casually, but make it fancy
Brunch weddings are all about the airy, bright daytime look, from florals, casual suits, flowy dresses, and pastel gowns. Brunch receptions are usually leaning toward more casual yet fancy items. The safest outfit choices are shirts and slacks for men and floral cocktail dresses for women.
The bride can opt for a more casual gown with a minimal train, shorter length, and casual fabric. Men should consider pastel-colored suits for the daytime ceremony instead of black. If you want to make it even more casual, go for a rustic boho vibe.
Match the decor with the vibe
Mornings give off a mellow tone, so make it light, bright, and fit for daytime (think mimosas and brightly colored floras). Since a brunch wedding is typically more casual, make sure the decors will reflect the wedding vibe. Replace floral centerpieces with wildflowers and mason jars and set a breakfast bar instead of the traditional buffet.
If the wedding day falls in the spring, make sure the space is generous on windows with the morning sunlight flowing in. If it's in winter, a roaring fire makes a classic touch.
Be creative with breakfast
Serve coffee and hot chocolate before the reception. Not all your guests are morning people, so make sure to serve some hot beverages to make them less cranky. This will also warm up their stomach before the main course. You can also set up a juice bar with mimosas, bloody marys, and fruity cocktails.
For the wedding cake, rethink your dessert preferences and choose a simpler version, such as cheesecake, waffle cake, or just one or two-tier wedding cake. Make the menu a little lighter by going for breakfast staples, such as bacon, scrambled eggs, smoked salmon, breakfast sandwiches, and waffles. As much as possible, the menu items must reflect the overall brunch atmosphere.
Having a brunch wedding is a great idea for couples who want to keep it low-key. Starting the wedding in the morning gives you more time to bond with your guests until the afternoon and the evening. Incorporate it with some personal touches, and you get an elegant reception that's worth waking up for.