When people think about bathroom design ideas, the immediate concern is always the master bath. But, while it's essential to pay a good amount of attention to your main bathroom – after all, it's one of your personal spaces at home – this isn't the only thing you should focus on. Your guest bathroom deserves just as much consideration.
Take your guest bathroom's overall design to the next level and your friends and family will undoubtedly be thankful. And it wouldn't hurt to get those never-ending compliments after some bathroom remodeling in your home here in Kansas City, MO.
Here are some ideas to get you inspired as you redesign your guest bathroom. With some simple tweaks, you might just discover a new favorite spot in your home.
Stick to a neutral theme
When designing your master bathroom, there's only one person you need to impress – yourself. Everything should be about your style and preferences, and that's totally fine. Are you a fan of taking long dips after a long day at work? Then get that bigger and wider bathtub.
Want to go bolder with your tile choices? Go ahead. However, for this project, your objective is to appeal to everyone else who'll walk into your home. They are your in-laws, your BFFs, your partner's friends and everyone else in between.
So, to keep things safe, go with a reasonably neutral look for your guest bathroom. A monochromatic color scheme is the most recommended if you don't want that old-time vibe but still want to look elegant. Once you've chosen a specific color palette, incorporate more visual interest to the bathroom by experimenting on different combinations of textures, shapes, and materials.
Your vanity and sink are just two of the items you can play around with.
Add some luxe accessories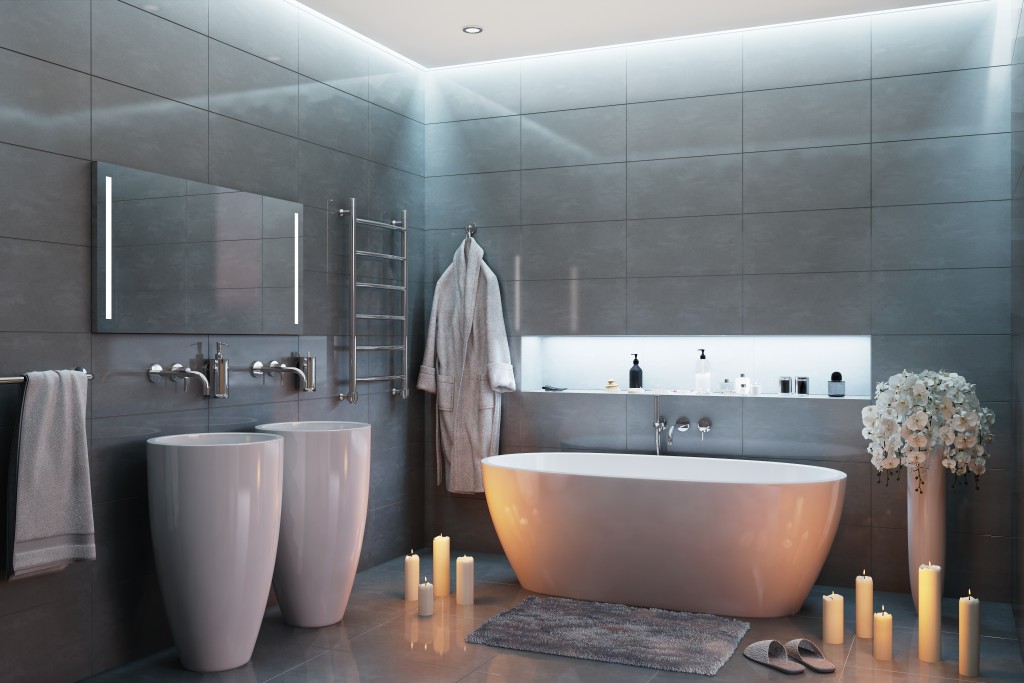 One of the best things about going on some weekend getaway are the little luxuries you can enjoy in your hotel. So, even if your home isn't exactly similar to some five-star accommodation, you can still recreate the whole experience for your friends and family by putting some luxe extras in your guest bathroom.
Here are some bathroom accessories you should consider: a plush robe, some high-end bath soaps and body lotions, clean and fresh towels, bath bombs, and other spa-like bath treatments. Not only will these make your guest bathroom look extra fancy, but they'll also leave a pleasant scent everyone can enjoy.
You may only need just one or two of these items to turn this space from being purely functional into something extra special.
Put emphasis on your displays
Here's another thing that makes even a typical hotel stay an entirely different experience from that of a regular home: how all these luxe items are meticulously arranged and presented. All it takes is a single glance, and you'll immediately know how much towels and toiletries are easily accessible to you.
So, when planning your guest bathroom design, your objective should be to make your guests feel the exact same way when they pay you a visit.
Think about all the storage solutions you need. Then, create some specific grouping of the items you're going to display. Switch things up a bit in terms of the height, number, and size of these groupings to create added visual interest.