As temperatures across the country cool down, people gravitate towards warmer design elements for their homes. These can be exposed raw wood beams, original bricks or patina-covered antiques. These rustic interior design elements can bring an unfettered but elegant look to an otherwise modern and polished-looking home.
If you're not ready to go full rustic, though, there are plenty of subtle ways to incorporate this popular, timeless interior design trend to your decor.
Repurpose items as non-traditional decor
Natural, rough and aged are some of the words that best describe what rustic design is. Bring this into your clean and sharp interior by using antique pieces that weren't necessarily created as ornaments. Items such as brown glass bottles, distressed buckets or thin industrial elbow pipes all lend a rustic yet edgy feel.
You may repurpose these things as decor simply by grouping together several pieces on a coffee table or countertop, as is, or use them as flower vases. The water pipes can also be makeshift candle or light bulb holders.
The key to this rustic design trick is to not be afraid of buying bold and random unique antique pieces.
Combine white paint with brown wood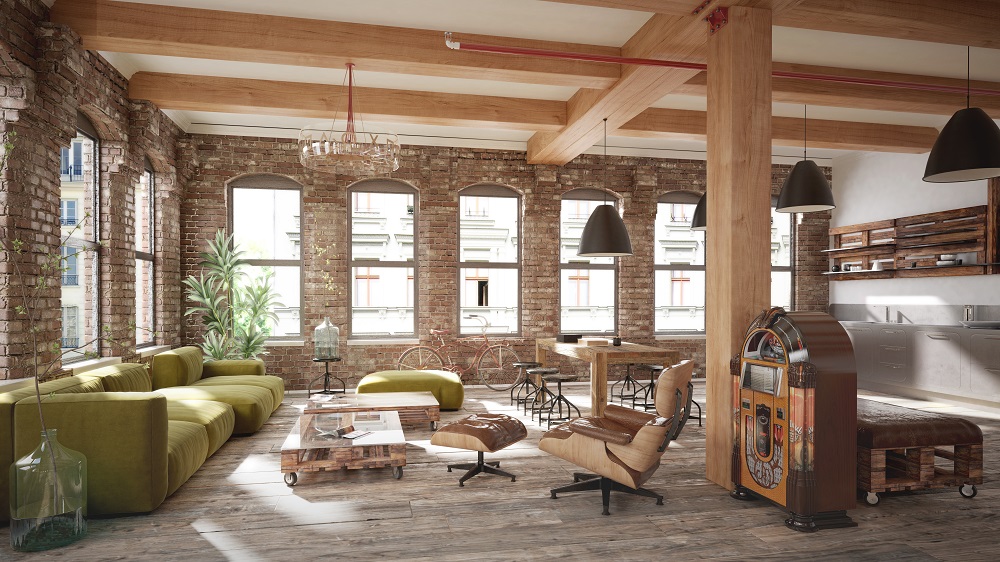 One of the easiest ways to achieve your desired look for a room is through the use of colours. It's easy to pick up pieces of furniture and decor that look great individually, but when put together, do not produce the theme you're going for. So, if rustic is your desired look, naturally dark wood contrasts beautifully with white paint.
Wood decor or furniture should be placed against a white-painted structure. For example, a dark wall-mounted sliding door works nicely when framed by white-painted walls or a table with white base or legs and dark, wooden tabletop.
Layer textiles to create a cosy, rustic vibe
The rustic look exudes warmth; what better way to channel that than by incorporating layers of fabric into your decor? For a truly warm and romantic vibe, make sure to use textiles that have a distinct vintage design. This can be seen in intricate doilies, stunning crochets and lush linens.
You can incorporate these textile fabrics in rugs, cushion covers and throw covers. With layers of fabric made from these materials, you can create a comforting atmosphere while also elevating the rustic look of your home decor.
Add handmade furniture and decor
Add heavy wood furniture in your interiors, such as tables and beams made from raw logs or reclaimed wood. You may also use slabs of stone or roughened bricks for a part of the wall that can be the focal point of a room, such as around a fireplace. The unique, uneven shapes and rough texture of these design elements make for an unpolished elegance that perfectly captures the spirit of rustic design.
Rustic elements can be incorporated into any existing design style. As long as you don't overdo the element of rawness, you'll achieve the cosy and sheltered feeling rustic interior design can bring.