If you're like a lot of people, you've dreamed about inviting your friends over to your brand new home and hearing them gasp in awe upon laying their eyes on your interior decorations. There's only one problem: you're on quite a tight budget. The good news is, there are plenty of ways to make your home look top notch without breaking the bank. It's just that not everybody knows how to do it.
Here is a guide to let you in on the tricks you can pull off to make your simple home look far more elegant.
Invest In Furniture And Accessories
If there's one thing not to skimp on, it's the things people can touch, not to mention sit on. No, you don't have to buy plume sofas or sandalwood side tables, but you would have to put some weight on your furniture decisions.
Those that are too cheap are hastily made with flimsy materials, and it will show over time. A well-made and modernly designed coffee will sufficiently impress guests and also live a long life. Large down-filled pillows need not be too expensive, and they'll certainly add much-needed flair to your living room. Here in Utah, there are a lot of second-hand stores that just might have what you need.
Surfaces Make A Big Difference
Hardwood floors and crown moldings are two of the things that first come to mind when thinking of a luxury house. The irony is, crown molding is relatively inexpensive, and the right paint job will help it make your house look very high-end. Try different widths and see what's most suitable for your home.
Hardwood comes in different price ranges, but if you can afford it, even the cheapest ones can provide your home with that class factor and will last a long time. If your budget doesn't allow it, you can opt for laminate. Make sure to choose your brand well for assured quality.
Good Lighting Is Key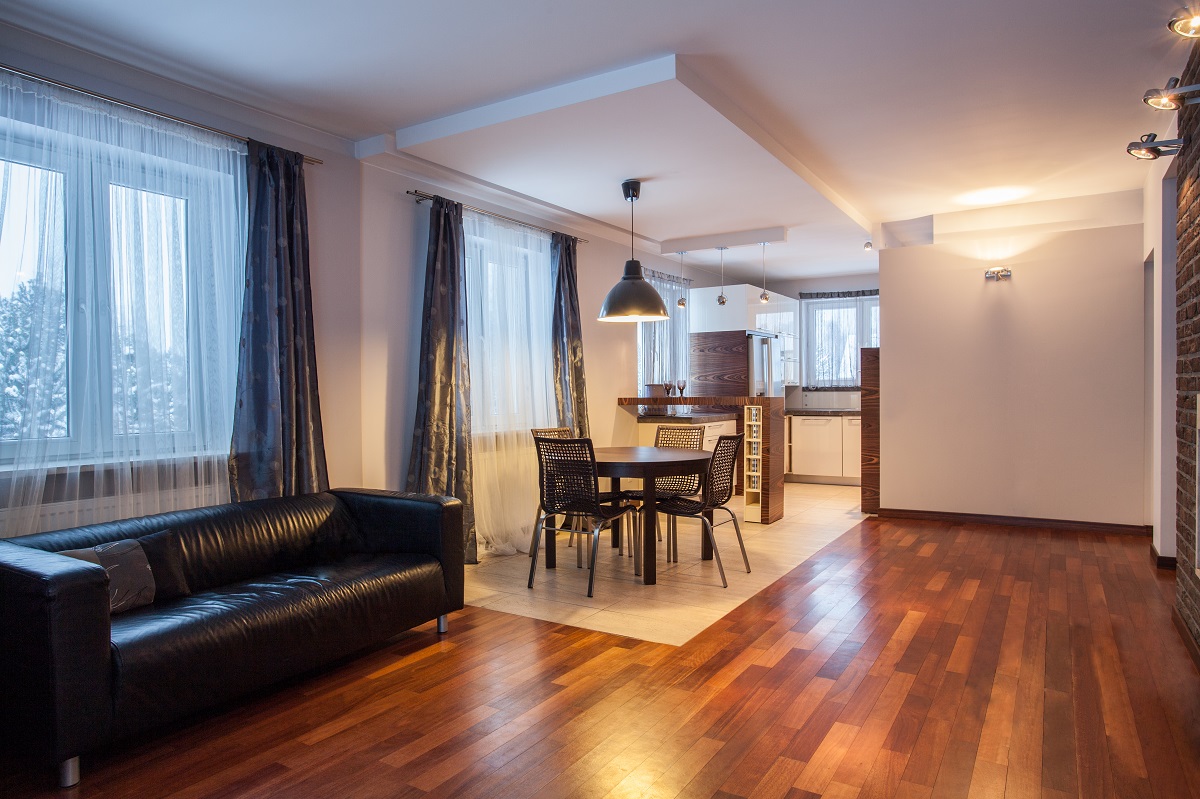 No visitor likes to be in a poorly lit room. While this might not be an issue during the day, illumination at night might be a little harder to come by. Fortunately, modern-day lights like LEDs provide the brightest glow at a very low electrical cost.
Install multiple wall-mounted and ceiling lights for a modern look, or stand lamps for a more classic vibe. Keep in mind that white and yellow lights both have their place in setting the mood. No need for chandeliers here. Designer pieces and styled fixtures will kill any chances of your home looking like a regular apartment.
Windows, Windows
You can do everything else right, but picking the right windows and curtains can be a deal-breaker. Especially in harsher climates, windows made with substandard materials will easily break and crack, ruining the classy interior you've worked so hard for.
It's best to invest in durable vinyl windows when living in Utah not only for their sleek form but also for their superior insulation properties that will help you save a lot on your electric bill. For curtains, stick to natural linens or even bamboo shades, depending on your preference.
Pick Your Paint Style
For the glue that will make all it come together, select a color palette and stick to it for your entire home. You can either use bold, bright hues or matte and minimalist colors, but it's not advised to use a combination of both, as it could make the look of your home seem scattered and disconnected.
Enhancing the interior of your home provides you with better living experience. But this doesn't have to cost you a lot of money. You just have plan your project carefully to make the most of your spending.