A wedding is a very special day, not just for the bride and groom but for their families. It is a day when two hearts become one, and a new life together begins. As you begin to plan your wedding, there are many things to think about, and getting your fiancee involved will help make the process go more smoothly.
In this article, we're going to look at how grooms can help their wives-to-be prepare for the big day. After all, weddings can be a lot of work, and it's important to ensure that your fiancee is as prepared as possible.
Help her choose the right dress.
As any bride knows, choosing the right wedding dress is one of the most important decisions she will make. The dress should not only reflect her personal style, but it should also be suitable for the theme and location of the wedding. With so many factors to consider, it can be helpful to enlist the help of a knowledgeable friend or family member.
Suppose you are fortunate enough to have someone who is both fashionable and experienced in weddings. In that case, they can be an invaluable asset in helping you choose the perfect dress. Wedding magazines and websites can also be a great resource, providing inspiration and advice from experts in the field. You can also visit a bridal store together and get the opinion of a professional consultant. Ultimately, though, deciding which dress to wear on your big day is your wife-to-be's. With a little thought and care, you are sure to find the perfect gown to help you create memories that will last a lifetime.
Plan the ceremony and reception.
Your wedding day is one of the most important days of your life, and you want everything to be perfect. However, planning a wedding can be daunting, especially for the bride-to-be. Fortunately, you can do a few things to help ease the burden and make the planning process go more smoothly. First, take some time to sit down with your wife-to-be and discuss what kind of ceremony and reception you both envision. It's important to have a clear idea of what you want before making any decisions.
Once you have a general plan, start putting together a list of potential vendors, such as caterers, florists, and photographers. Be sure to get quotes from each vendor to compare prices and services. And finally, try to stay organized throughout the process by keeping all your receipts and contracts in one place. By taking these steps, you can help your bride-to-be plan the perfect wedding.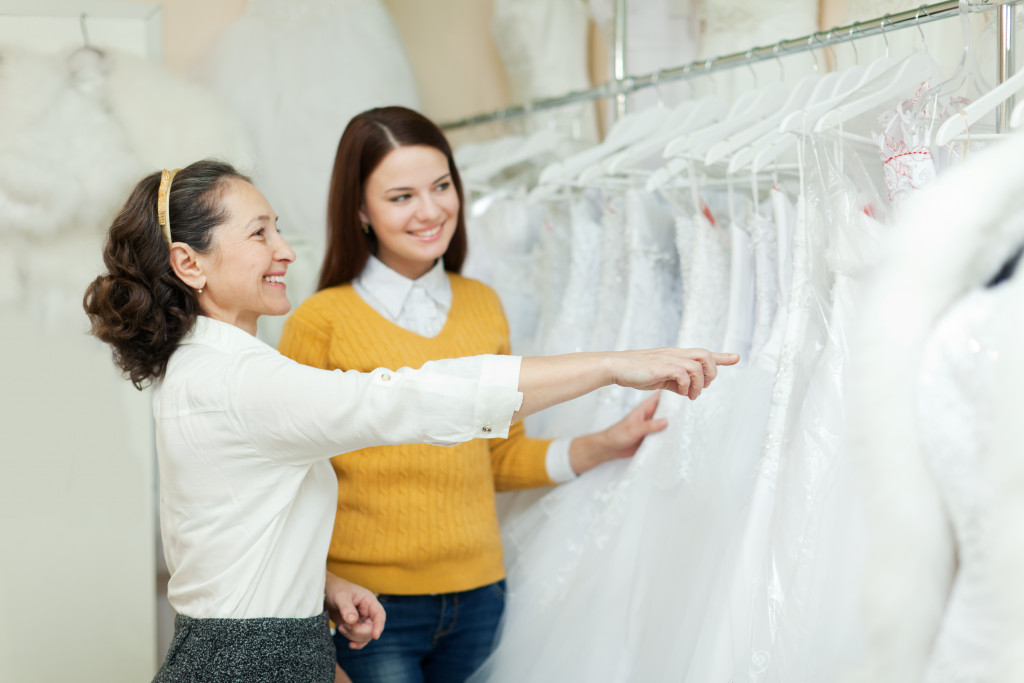 Make a list of priorities and delegate tasks accordingly.
When it comes to wedding planning, it is important to make a list of priorities and delegate tasks accordingly. This will help ensure that your wife-to-be is not overloaded with work and that the most important tasks are taken care of.
Some things that should be at the top of your list include choosing a date and venue, finalizing the guest list, and booking vendors. These are all tasks your wife-to-be will likely want to be involved in, so it is important to ensure she has the time and energy to devote to them. Once these big items are taken care of, you can start delegating smaller tasks to other members of the wedding party or family.
By making a list of priorities and delegating tasks accordingly, you can help take some of the stress off of your wife-to-be and ensure your wedding goes smoothly.
Help with wedding logistics such as seating arrangements, transportation, and catering.
Your wedding is one of the most important days of your life, and you want everything to be perfect. But with all the planning and logistics involved, it's easy to get overwhelmed. One way to reduce stress and ensure everything goes according to plan is to enlist the help of a wedding planner. A good wedding planner can take care of all the details, from seating arrangements and transportation to catering and entertainment.
They'll also be able to work with your budget to ensure that you get the most bang for your buck. Best of all, they'll take care of all the behind-the-scenes work so that you can focus on enjoying your big day. So if you're feeling frazzled, don't hesitate to contact a professional for help.
Final Thoughts
Planning a wedding can be a lot of work, but with your fiance's help and professional assistance, it can be done. By following these tips, you can ensure that your big day is everything you've ever dreamed of.