Starting a business is no easy feat. It takes hard work and dedication to make a successful venture and the ability to take risks without fear of failure. But more than that, starting your own business takes a particular type of masculinity.
Most men think they need to prove their manhood by working out at the gym, drinking and carousing, or taking dangerous risks. But is that really the way to prove your mettle as a man? Not necessarily. Many business ideas for men don't require any of these risky or stereotypical notions of masculinity. Instead, you can use your creativity and skills to develop an ingenious idea and follow through on it.
Here are five ideas sure to test your manhood and allow you to reap the rewards of being an entrepreneur.
Construction Services
Construction services can include building decks or sheds for homeowners, remodeling kitchens or bathrooms, and even full-scale home renovations. The right knowledge and training can lead to a successful career in the industry.
Offering services such as general repairs and improvements, new home builds, landscaping, roofing, or demolition could provide clients with an end-to-end solution from start to finish. Building good customer relationships and striving for excellent results will help ensure an efficient and professional service.
Along with increasing your customer base through word of mouth, creating a website and social media profiles will also assist in growing the business and increasing the visibility of the service you offer.
Automotive Repair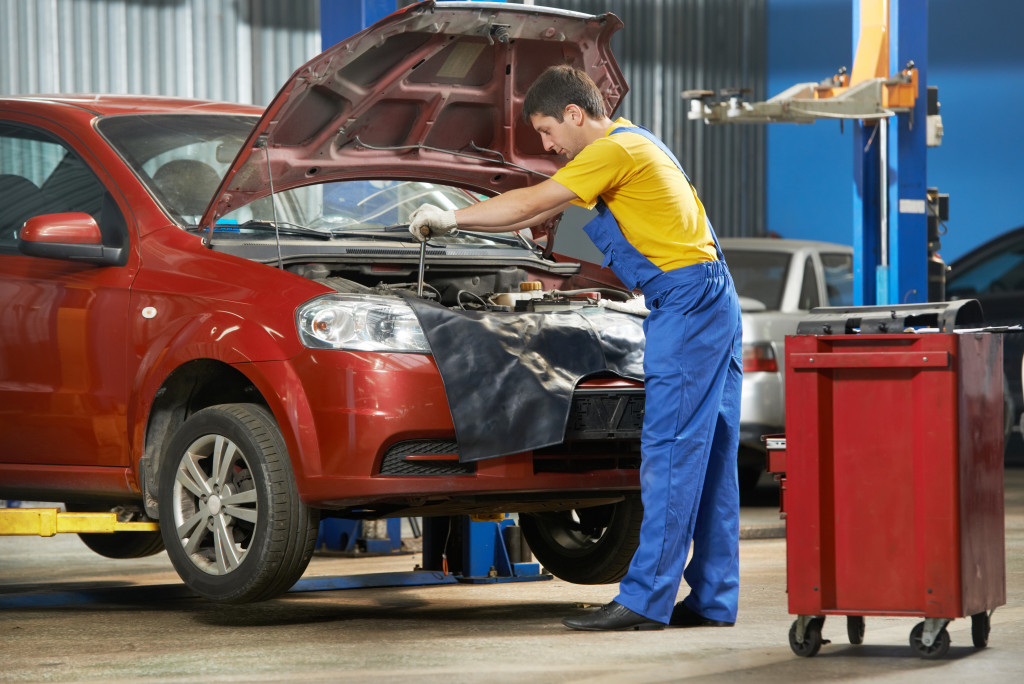 If you have experience in mechanics, then starting an automotive repair shop could be right up your alley! With the right tools and training, men can open their shops to repair cars and other vehicles, from oil changes and tune-ups to complete engine rebuilds. They will work with customers in need, utilize diagnostic software for more accurate problem-solving, and get hands-on experience with various vehicle components.
Fixing broken things can provide a sense of pride and accomplishment, something that anyone can appreciate in their career. Considering the industry is projected to remain stable, with demand increasing slightly over the years, it's worth looking into this lucrative business idea.
Engraving Services
With this type of business, the owner can offer services that range from classical engraving on metal to personalized engraving on glass, wood, leather, and precious metals. Besides engraved items like trophies or plaques as awards or commemorative pieces, businesses may also offer custom-engraved gifts such as knives and key chains.
Also popular with men are personalized signs such as address signs or military badges that can be designed and made to order using specialized equipment or hand tools. However, you need to look for a laser etcher for sale near you as it is an essential piece of equipment for this type of business.
A laser etcher will produce the most intricate and detailed engravings on almost any surface, making it an excellent investment for your business. This technology has become more affordable in recent years, so you can easily find one within your budget.
Handyman Services
Starting a business has never been easier, and handyman services (or "Handyman Services") is an increasingly popular business idea for men. Being your own boss, building a reputation in the industry, and earning more money are excellent advantages for those looking to get into entrepreneurship.
With handyman services, you can tap into an industry with multiple niches that require various skills like plumbing, painting, and carpentry. Furthermore, it will cost considerably less upfront than setting up any other service-based business since it does not require specialized equipment or costly machinery.
Food Truck Business
Starting a food truck business for men is an excellent way to capitalize on current trends and make some money. All you need is a vehicle, some food prep tools, ingredients, and knowledge of how to get customers.
Not only could your food truck offer tasty treats that customers can enjoy on the go, but it also allows you to take your business wherever there are hungry people in the area. You can bring your unique flavors and style of cuisine to festivals, music concerts, car shows, school events, or anywhere else with a lot of foot traffic.
The Bottom Line
Starting your own business is no easy task; it requires hard work and dedication but also a certain type of masculinity to take risks without fear of failure. This article contains five ideas that will test your manliness while allowing you to reap the rewards of being an entrepreneur; whether its automotive repair, engraving services, handyman services, or a food truck business—there's something for every man out there who wishes to start their own business. So get ready to roll up your sleeves and take the plunge into entrepreneurship!