Long-haul flights, heavy backpacks, long periods of walking—the things that come with traveling make up for an easy recipe for body pain. You've probably experienced travel-related pain at least once in your life, and no matter how frequent you travel, body pain is and will always be a common woe.
Few things are worse than being in pain while traveling. If you don't want travel-related pain to put a damper on your trip, here are some important tips to keep in mind before, during, and after you travel.
Before the trip
Address existing pain issues
If you have existing pain issues, make it a point to address them before you depart for the trip. For example, if you've recently gotten into a car accident that has lead to chronic neck pain, you may want to go to a car accident chiropractor first to eliminate or at least minimize your pain. Or if you suffer from chronic pain from an underlying medical condition, be sure to talk to a pain management specialist to ensure that you know how to avoid making the pain worse while traveling.
Pack light
Bringing heavy bags on a trip is a one-way ticket to pain town, especially if you're carrying backpacks. The best way to avoid pain courtesy of heavy luggage is to pack light—but this is often easier said than done. If you're the type of traveler to overpack, here are some of the best ways to keep your luggage as light as it can be.
Plan to do laundry and bring fewer clothes.
Wear your heaviest shoes in transit.
Avoid packing the 'just in case' items.
Bring travel-sized toiletries.
Buy the essentials when you get to your destination.
Don't bring things that the hotel provides.
Ship your belongings in advance if you are going on a long vacation.
Plan your in-transit outfit carefully
Whether you're traveling by plane, bus, or car, wearing a comfortable outfit is key to avoiding that dreaded travel pain. Avoid wearing tight or elaborate clothes. Instead, wear clothes that are soft, loose, and apt for your mode of travel. The same goes for your shoes; be sure that you wear a pair that won't have your feet hurting after a couple of hours of walking.
Condition your body
If you've spent the past few weeks being sedentary, it's a good idea to start getting some exercise before you leave for your trip. Otherwise, the muscles that haven't been used as of late can get painfully stretched when you lift your bags or run around the airport.
During the trip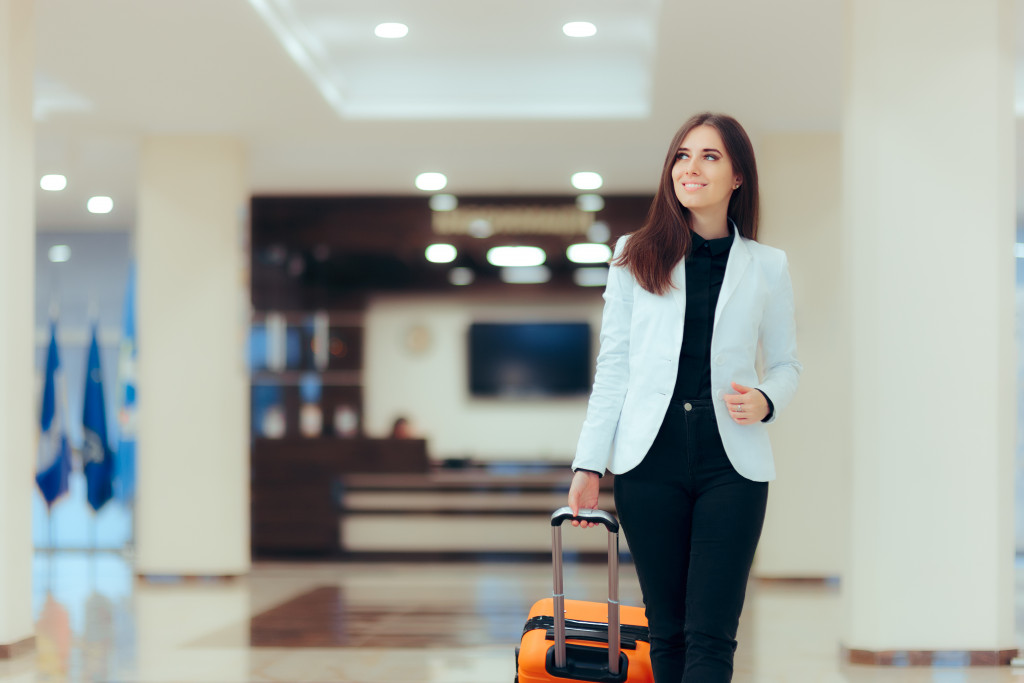 Mind your posture
When traveling, you will likely spend most of the time sitting, be it while waiting in the airport, on a flight, or on a bus. That said, maintaining proper posture everywhere you go is one of the best ways to avoid dealing with back pain while on a trip. If you want to sleep while sitting, avoid slouching and make sure to use a neck pillow to keep your head upright. Moreover, avoid squeezing your body into weird positions to get some sleep—you'll most likely end up with a cramp here and there when you wake up.
Keep your day bag light
Similar to the rest of your luggage, you'll also want to keep your day bag light. Bring only the necessities for the day and leave the rest at your hotel or rental. If you have heavy valuables that you want to keep safe (e.g., laptop, camera equipment, etc.), leave them in the hotel safe or at the front desk. Better yet, avoid bringing expensive belongings if you don't plan to use them that much anyway.
Get enough rest
Another common reason why travelers experience body pain while traveling is that they overdo it. While you may want to squeeze in as many activities in your itinerary as possible, it's much better to stick with a schedule that allows for enough rest instead. Furthermore, if you plan to do extreme activities like parasailing or skydiving, be sure to plan for enough rest the day before and after.
After the trip
Let your body recover
After getting home, clear your schedule and allow your body to recuperate from the stresses of traveling. Do some light stretching, get a massage, or stay in bed. There is always time to unpack and take care of errands afterward.
Body pain is a common problem for many travelers, but it is often avoidable. With these tips, you can keep your trip relatively pain-free and help make the entire vacation more enjoyable.